Workplace violence is a real epidemic in the healthcare industry. Hospitals and other healthcare organizations are often a highly emotional space filled with many people. This creates a deadly combination when someone lashes out. Whether someone is upset about a loved one's outcome or have bad feelings toward a hospital staff member, there are a number of reasons armed intruders target a healthcare organization.
The Economic Impact of Workplace Violence
The economic costs associated with achieving compliance and a safe workplace by partnering with MDI is offset by higher patient satisfaction and higher reimbursements from CMS.
If an armed violent intruder enters your healthcare organization, the below points are all ways this event can take a toll of your organization's financial wellbeing:


Insurance Claims – Your healthcare organization is filled with people. From patients to visitors to staff members, you may have a lot of insurance claims to pay for if people are injured due to an armed violent intruder in your hospital.
Psychological Trauma of Survivors – Many survivors of a traumatic event have psychological issues. From survivor's guilt to traumatic flashbacks, there are many ways they may be haunted by this occurrence. Many times, a healthcare organization will be responsible for paying for any survivor's counseling to help combat the trauma they went through.
Lost Productivity – Many staff members will be unable to work for one reason or another after an armed violent intruder comes into your building. Whether they are physically or mentally injured, they will likely not be back to work right away. This can make your organization much less productive than normal.
Legal Expenses- A healthcare organization will likely find itself in the middle of a legal battle, after an occurrence of violence in the workplace.
Damaged Reputation – The public image of your healthcare organization may suffer greatly after an outbreak of workplace violence. The potential loss of income can be damaging for any hospital or other healthcare organization.
Physical Damage to Building – The physical damage to a healthcare building can be costly to repair, if the armed violent intruder causes damage to the physical building, which is highly likely.
How MDI Can Help
We offer training that empowers the healthcare professional to cognitively recognize and properly respond to behaviors consistent with client dissatisfaction or dangerous situations. Proven techniques focus on safety not only for the patient or client, but also for the professional.
Mitigation Dynamics Institute content experts with decades of practitioner experience partner with healthcare organizations to identify gaps and solutions to meet the robust nature of regulatory compliance that is now expected by Centers for Medicare and Medicaid Services (CMS) and accrediting bodies, such as The Joint Commission (TJC).
Whether physical environment, emergency management, physical security, access control or specialized areas, such as ligature risk assessment and diagnostic imaging, MDI content experts insulate healthcare organizations from the complexity of CMS regulations. TEAM MDI is your solution.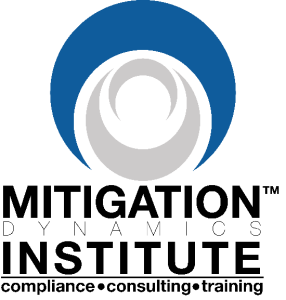 THE STANDARD FOR EXCELLENCE IN GLOBAL RISK MITIGATION

Call us at 816.251.4567
LIKE us on Facebook
FOLLOW us on Twitter
FOLLOW us on LinkedIn
FOLLOW us on Google+
comments powered by

Disqus