Mitigation Dynamics, Inc. (MDI) offers vulnerability and security assessments for facilities on every scale. MDI utilizes the proven principals from their Armed Violent Intruder Response (A.V.I.R.) curriculum, real world critical incident problem solving experiences and specialized training from the National Crime Prevention Institute to create this unique service.
The objective of MDI's vulnerability and security assessment is to: (1) identify a facility's protective measures and vulnerabilities that may be exploited by an adversary to degrade the facility's ability to carry out its mission (2) identify the vulnerabilities of the facility's physical attributes that may enable a manmade or naturally occurring disaster to degrade the facility's ability to carry out its mission and (3) provide information to enhance a facilities protective measures and mitigate it's vulnerabilities through the utilization of Crime Prevention Through Environmental Design (CPTED).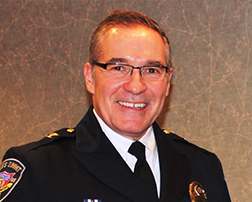 MDI's tenacity is rivaled by few and I confidently support their life-saving efforts to ensure everyone goes home.
Ret. Chief of Police |
Lee's Summit, Missouri Police Department
Physical environment greatly influences crime, fear of crime, and quality of life. The relationship between physical environment and crime has become more evident in recent decades as healthcare facilities make increasing use of locks, bars on windows, cameras and alarm systems. Although these tools can have a legitimate role to play in crime prevention, they are not the complete answer. For a crime prevention strategy to be effective, it must be comprehensive. The solution is an approach called "CPTED," or "Crime Prevention Through Environmental Design." As defined by the National Crime Prevention Institute, CPTED is:
…a crime prevention philosophy based on the theory that the proper design and effective use of the built environment can lead to a reduction in the fear of crime as well as an improvement in the quality of life.
CPTED works by decreasing a criminal's ability to commit crime and increasing the chances that the crime will be seen by legitimate citizens. CPTED goes beyond traditional security methods by naturally integrating security measures into the healthcare facility. The goal of ALL CPTED applications is to:
Increase the Quality of Life

Decrease Fear of Crime

Decrease Crime
MDI representatives conduct an on-site assessment of the interior and exterior of the facility in order identify and document any potential vulnerability points. At the conclusion of the on-site assessment, a comprehensive report is prepared, which details various solutions to mitigate any identified vulnerability points. For a detailed overview of the CPTED elements provided with this service, feel free to contact an MDI representative at info@mitigationdynamics.com.