The looming threat of violence in the workplace is an everyday concern, especially in the healthcare industry. Keeping patients, visitors, physicians, and staff safe in such a dynamic environment requires unique principles, techniques and procedures. The training and consulting that Mitigation Dynamics Institute delivers is the proven stop-gap for all healthcare organizations. Our Workplace Violence Mitigation System delivers in-person AND online training sessions to further equip and empower your healthcare staff and prepare them for potentially violence situations. Below you can find further information about our Workplace Violence Mitigation System!
The propensity for a sentinel event exists every day within healthcare organizations; therefore, Centers for Medicare and Medicaid Services (CMS), The Joint Commission and Occupational Safety and Health Administration (OSHA) have crafted regulations and standards designed to achieve a higher level of safety for patients, visitors, physicians and staff. Sentinel events related to workplace violence are increasing within healthcare, validating the necessity for ongoing professional training on workplace violence related topics, such as verbal de-escalation, safe-patient handling and armed violent intruder response.
Workplace violence is defined by the National Institute for Occupational Safety and Health as "violent acts, including physical assaults and threats of assault, directed toward persons at work or on duty." It has been identified by multiple professions as a leading concern among employees. In fact, homicide has been identified as the second leading cause of death in the workplace and the number one killer of women.
Today's reality is that the complexity of doing more with less unintentionally leaves patients and professionals vulnerable. Healthcare organizations want their staff fully compliant, thus empowered to solidify a safe and quality patient care experience. At MDI, we deliver principally based solutions to do just that.
MDI employs an unrivaled Workplace Violence Mitigation System utilizing a unique four-pillar approach proven to effectively address behavior management and/or armed violent intruder response events. The foundation of this building block approach accentuates the existing levels of emotional intelligence, thus empowering the healthcare professional to cognitively recognize, and properly respond to behaviors consistent with client dissatisfaction or dangerous situations. These personal tools equate to life safety skills and absolutely enhance employee engagement, patient experience and personnel retention far beyond any didactic session; as the various evolutions of MDI training engage the mind, body and soul of the professional.
MDI's unique four-pillar approach consists of proven principles that are built around Policy, Procedure, Training and Drills. In the event a sentinel event occurs and investigations follow, healthcare organizations will be scrutinized on the following:


1) Was policy (related to the particular event) in place?
2) Were procedures outlined within the policy or otherwise?
3) Was training conducted in support of the policy and procedure?
4) Were drills conducted to validate the training?
When MDI partners with you, we ensure all elements of our Workplace Violence Mitigation System are in balance with the Four-Pillar Principles. Our content experts work diligently in an effort to insulate you from unnecessary liability and the complexities of existing regulations.
The Workplace Violence Mitigation System that MDI employs consists of two distinct categories: 1) Behavior Management Strategies and 2) Armed Violent Intruder Response.
Behavior Management Strategies
Four exact cornerstones solidify the Behavior Management Strategies and forge this dynamic multidisciplinary approach to resolving conflict. Those cornerstones are:
1) Verbal Conflict Resolution (V.C.R.)
2) Personal Awareness Safety Training (P.A.S.T.)
3) Safe Training and Responsible Restraints (S.T.A.R.R.)
4) iMDI (interactive eLearning module)


Armed Violent Intruder Response
MDI's principally-based doctrine created a formula of core elements that empower the healthcare professional through a series of proactive action steps, decision-making skills and personal safety tools. Those core elements are:
1) OUT Principles
2) Restrict Access/Limit Mobility Strategies (R.A.L.M.)
3) Work Area Resource Training
4) Champion Certification
5) iMDI (interactive eLearning module)
6) Incident Command Activation Response Training (I.C.A.R.T.)
It's important to make sure your entire staff is trained in violence mitigation. If you are not up to the workplace training standard, it's time to invest in training for your staff. At Mitigation Dynamics Institute, we thrive at creating a trusted partnership with our customers. It's all about open communication, principally-based problem solving and sustainable solutions. For more information, simply contact us at info@mitigationdynamics.com or 816.251.4567. We are eager to hear from you.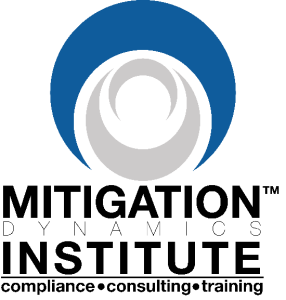 THE STANDARD FOR EXCELLENCE IN GLOBAL RISK MITIGATION
Call us at 816.251.4567
LIKE us on Facebook
FOLLOW us on Twitter
FOLLOW us on LinkedIn
FOLLOW us on Google+
comments powered by

Disqus